Physical Education (PE)
Our Curriculum - Intent
We aspire for each child to develop a deep interest in, and love for learning so they are equipped with the knowledge and skills they will require to be successful, both now, as children, and in the future. We want our children to have a passion for physical activity and to recognise and experience the benefits for their physical and mental health.
We offer an ambitious PE curriculum, which is shaped to reflect the unique needs of our pupils. We believe that physical education is an important part of a child's all-round development and teaches them key life skills. We give children the opportunity to explore a variety of different sports, discuss sporting careers and consider the influence certain sporting heroes have had, regardless of their age, gender, race or ability.
We promote positive mindset and resilience so that our children attain their best, are challenged to achieve their best and leave The Russell School ready for their secondary education and beyond. The curriculum helps build resilience and determination to succeed through teaching a range of skills in different activities. We encourage effort, independence, and ambition as well as teaching the importance of team work.
The breadth and depth of the curriculum provides stretch and challenge for all abilities and it is sequenced to ensure the progressive development of PE skills. The curriculum is adapted to meet the needs of all children though differentiation and each lesson is sequenced to build on prior learning and skills. Medium term plans set out the skills and understanding to be achieved at the end of each lesson and by the end of the half-termly sequence of lessons. Concepts and skills are taught in a logical order, with an increasing level of challenge. Links are made to other subject areas, such as Science, to allow for diagonal sequencing.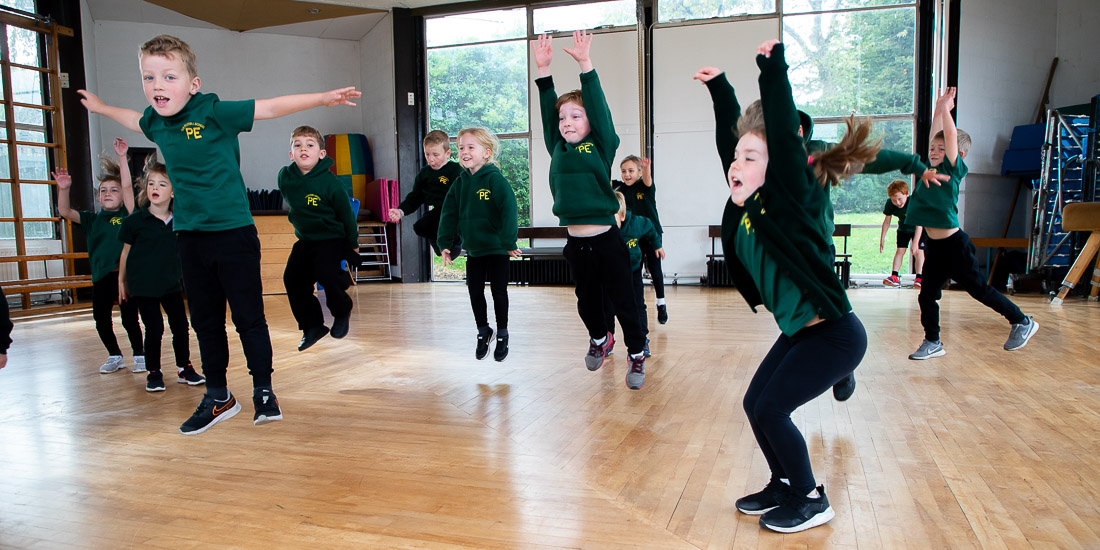 Our Curriculum - Implementation
The PE curriculum is structured to be progressive in knowledge and skills across all phases and is closely aligned to the National Curriculum Programmes of Study. Knowledge and skills are sequenced to build on prior learning and the subject is taught through a half-termly topic focus. PE knowledge and skills are taught creatively and children work towards clearly defined end points, creating opportunities to make connections within and across their learning.
Children learn a range of skills needed to play a broad range of sports and physical activities, including:
Netball

Football

Tag rugby

Rounders

Athletics

Cricket

Dance

Gymnastics
All children from Year 1 to Year 6 have weekly swimming lessons in our on-site pool.
Children are encouraged to develop their own ideas and initiative and to challenge themselves. They are taught skills to play a variety of sports and games they may not have tried before. All children during PE are taught to be positive, fair and strive to do their best.
We encourage and nurture children's independence and give all children an equal opportunity to take part. Every child has the opportunity to play sport competitively against other local schools, in tournaments and matches throughout the year (netball, football, athletics and tag rugby). As members of the Schools' Partnership, there are a number of tournaments and festivals of sport that we attend in Three Rivers (including: tri-golf, athletics and multi-skills).
In addition to curriculum sport, we have an extensive list of sports clubs (mornings/after school); Sports Day (whole school) and the annual triathlon (Year 5 and 6). We promote the importance of exercise outside of the school day and facilitate this through the Fitter Futures programme.
Our Curriculum - Impact
The impact of our curriculum is the measure of how well our intent has been realised. It is demonstrated through the success of our learners and their confidence to demonstrate the physical skills and knowledge that will prepare them for the curriculum at Key Stage 3 and for life as a healthy adult in the wider world.
Children's achievements in PE are assessed through a variety of ways. Verbal feedback provides ongoing assessment information which is used to shape future teaching; at the end of each term and phase children are assessed formally in their understanding of the key knowledge and skills covered. We use feedback from Pupil Voice questionnaires and encourage discussion as a way of shaping the curriculum to the needs and interests of our pupils.
We constantly evaluate the impact of the PE curriculum implementation by assessing evidence that defines a high-quality education, through:
interactive lesson observations
review of pupil outputs
question and answer sessions
By the time our children leave Th
Progression and End Points in PE