Personal Development
'No act of kindness, no matter how small, is ever wasted.' Aesop
Please also refer to the SMSC and PSHE website pages.
Visitors to our school often comment on the maturity and sincerity of our pupils as well as their confidence and kindness. Over their years at The Russell School, learning experiences across all subject areas feed into the personal development of our children. Children are expected to treat all people with respect and kindness, regardless of any differences.
Our school ethos 'Aim High, Have Courage and Be Kind' is the foundation of everything we do.
Personal development is taught discreetly through PSHE lessons, using the Jigsaw scheme across the school as well as through a wealth of additional planned learning opportunities across all subject areas.
Our pupils have the opportunity to experience an extensive range of curriculum enrichment activities during their time at The Russell School and are encouraged to record the extent of their participation in their Personal Enrichment Passport. Each opportunity is assigned points to enable the children to gain credits towards an award certificate.
We aim to develop the personal growth and wellbeing of all of our pupils to enable them to:
Develop lively enquiring minds and a spirit of curiosity
Have high self-esteem through respect for themselves, others and the environment
Communicate effectively
Develop a strong awareness of their own health and well-being
The development of every pupil's self esteem and confidence is important to us at The Russell School and some of the strategies we use to achieve this include:
Merit Awards
House points
Positive phone calls home
Headteacher Awards
Praise stickers for effort and behaviour
Class marble jar rewards
Team building events such as sports day, the house system, concerts, productions, community engagement and specialist curriculum focus days/weeks.
Personal Development Opportunities Across the Curriculum
Development of Character:
Daily mindfulness sessions
One word mantra for each child
Growth mindset philosophy – classroom monitors
Philosophical questions for debate – assemblies
Self challenge
Response marking
Stuck routines and help desk - resilience
Power of yet
Outdoor learning
Engagement in Mini Police project
Learning ladders - class marble jars, rainbow stickers and Learning Leader status
Positions of responsibilities – Head Girl/Boy, house Captains, School Council, Eco Squad, Growth Mindset and Learning Behaviour monitors, Buddies, Peer Mediators
Opportunities to perform – music concerts, productions, class assemblies, Christmas productions and concerts
Fundraising and support for charities (food bank, Spread a Smile, Children with Cancer)
Outdoor learning across the curriculum
Talent shows
Caring for the school pets
Aspirations Week and careers events (Harefield theatres open day)
Art Therapy
Community engagement (road safety, collaborative school council events)
Collaboration in school newspaper
Effective learning skills assessment framework
Personal development passport to record achievements and participation in wider school activities
Whole school homework to respond to current affairs and encourage debate on moral and ethical issues
Diversity, identity and equalities are celebrated – whole school displays
SMSC development opportunities (see SMSC framework)
PSHE curriculum
Pupil voice – children's views lead to change
Use of paired talk in lessons
Wellbeing and Mental Health:
Rebalance training – all staff
Fitter Futures – daily class activity and homework
Morning runs
Art therapy
Participation in Mental Health transition project – DET
School pets
Reading dogs
Worry box
School vision – kindness underpins
Annual Anti bullying week
Kindness – ethos
NSPCC workshops and assemblies
Positions of Responsibility:
House System:
There are three houses in the school: Chess, Colne and Gade. Every pupil is allocated a house when they join the school and siblings are put together in the same house. Children are encouraged to support their house through their work and participation in activities throughout the year. On Sports Day the houses compete against each other as teams and the 'Sports' cup is awarded to the winning house.
In September Year 6 students prepare speeches to explain why they would make good House Captains and the KS2 pupils vote for their preferred candidate.
House points are earned for good behaviour, good work or kind deeds. Pupils are given a token for each house point awarded to them to place in the token box. House Captains count the points at the end of half term and announce the totals in assembly. The house with the most points for each half term receives a mufti day.
School Council:
Each class elects two representatives to the School Council at the start of each academic year. The children are major stakeholders in the school and, through the School Council, are given an opportunity both to make a difference to the way the school operates, as well as to develop their citizenship and social skills. The School Council occasionally organises ballots on certain issues helping to teach our children about the democratic system.
Eco Squad:
Our Eco Squad is responsible for ensuring we do all we can to ensure the sustainability of the school and to make everybody in school aware of how they can make a difference to this world. We believe that it is everyone's responsibility to change the world and the choices we make in our everyday lives which can make a real difference. As a result, our school has been presented with the Eco Silver Award.
Personal Safety:
NSPCC – personal safety workshops
Safety reminders in assemblies
E safety focus – PSHE curriculum, e safety week, discrete teaching, e safety production 'Better safe than e sorry'
Bikeability road safety
Mini Police project with local officers
Community Engagement:
'Pimp My Zimmer' – project to reduce the number of falls in care homes by making zimmer frames more appealing for the elderly to use (recommended for national award).
Three Rivers crocus bulb project
Chorleywood scarecrow annual competition
Collaborative school council events with local schools to debate life in modern Britain
Fundraising – Café CW tube station (Safe Passage)
Harvest donations to food bank
Road safety engagement with police
Three rivers art installation collaborative project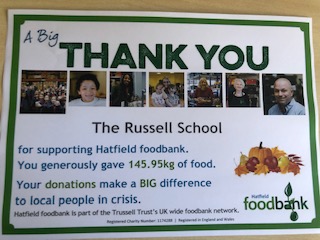 Pupil Voice:
School Councillors
Eco Squad (Silver Award)
Annual pupil survey and feedback
Pupil participation in parent conferencing sessions
Head Girl/Boy learning walks
Russell Round Up – school newspaper
Curriculum Enhancements:
Christmas panto
Christmas concerts
Coding workshops
Arts week
Enterprise week – profit making activity
Aspiration week – learning about careers
Shakespeare workshops
Holocaust workshop (Y5)
STEM ambassador visits
Outdoor learning
Sport:
Participation in sports partnership (PLT)
Morning runs
Fitter Futures
Sports week and sports day
5/6 triathlon
Weekly swimming
Clubs
Music:
Y5 Ukelele class lessons
Specialist music teaching (all classes)
Annual 'musical try out' day
School orchestra and choir
Brass band
Participation at the 02 'Young Voices'
Choir and orchestra performances to local care home and CW village night
Easter and summer concerts
Annual music festival
Musical clubs
Peripatetic music teaching
Musical try out days
Musical performances to local care homes
Trips and Visits
Whole school

Nursery

Reception

Whole school Christmas panto

Coding workshops

Arts day

Enterprise week

Aspiration day

Christmas performances

Shakespeare productions/workshops

Carpenters Wood Teddy Bear Picnic

Willows farm

Carpenters Wood Teddy Bear Picnic

Willows farm

Year 1

Year 2

Year 3

Walk to CW library

Natural History Museum

Visit to Chorleywood Common, tour with the ranger

St Alban's cathedral

Ancient Greek day

Chiltern Open Air Museum

Ancient Greek Day

Maths Mastermind Workshop

Year 4

Year 5

Year 6

Residential – Shortennils (1 night)

The Railway Children theatre trip (English/West End)

Maths Challenge (Maths/Gayhurst School, Gerrards Cross)

ISKON Education Services Diwali speaker

Residential – Ufton Court (3 nights)

Y5 Fun Run

Y5 Hockey Tournament

STEM Ambassador visits (Ian Melville – Sun and Planets, RES team – Forces)

Watford Move and Learn Football Coaching sessions

Smiling Minds workshops – confidence and team building skills

Ukulele lessons

Tri-golf festival (PE/Chorleywood)

NSPCC talk

Annie Jnr – production visit to St Clement Danes

Watford Football Club – Move and Learn football sessions

Residential – PGL (5 nights)

Joseph production

Kwik Cricket Festival

RAF Hendon

Bletchley Park

STEM Ambassador visit (Dr Melissa Upjohn – Micro-organisms)

NSPCC – talk

Sport Relief Cake Sale (Charity event organised by Year 6)

Oliver production/theatre workshop with actors

Annie Jnr – production visit to St Clement Danes