Reading
Click here to visit our Reading Blog
Information about our reading dogs, Albert and Teddy
Staff use the LCP scheme to support the teaching of phonics across the school.
More information on the way we teach phonics can be found here.
Reading materials are drawn from a wide range of schemes, including Rigby Star and Oxford Reading Tree.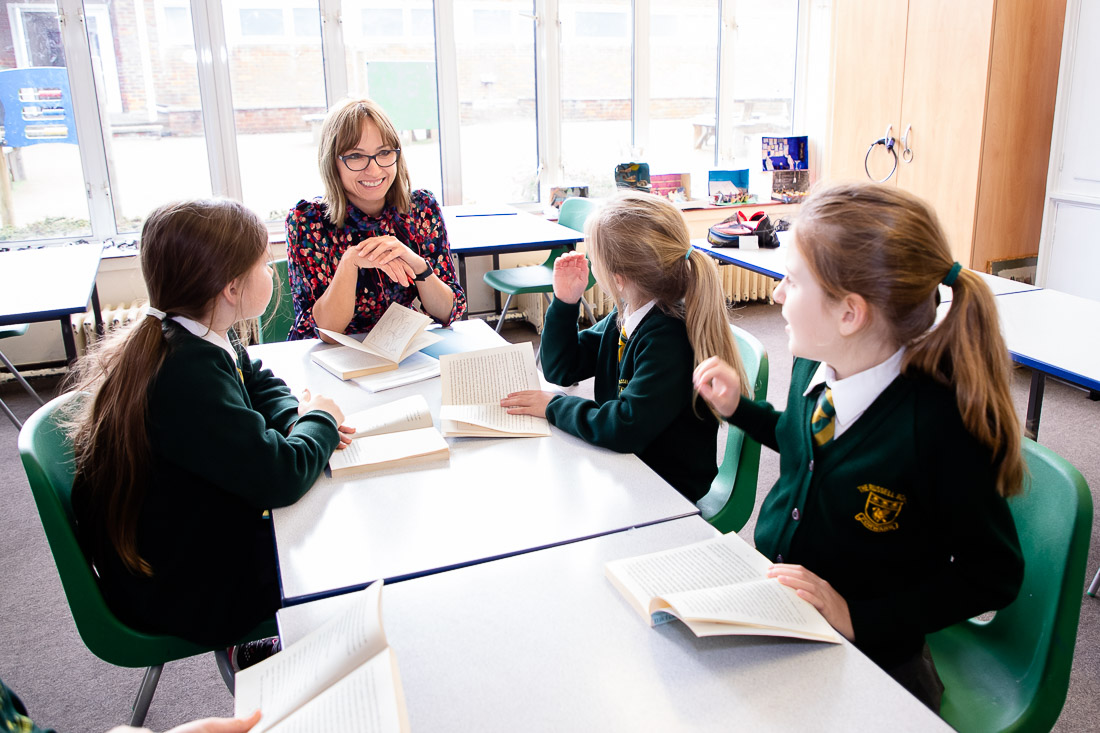 The Year 1 Reader
The Year 2 Reader
The Year 3 Reader
The Year 4 Reader
The Year 5 Reader
The Year 6 Reader
Recommended Reading Lists
Years 1 and 2
Years 3 and 4
Years 5 and 6
Children enjoy putting their reading skills into action at special school events, including book fairs and author visits. World Book Day provides another exciting opportunity for us to enthuse our children, with the whole school taking part in themed events. Weekly class assemblies, school productions and 'buddy' reading activities also develop speaking and listening skills and help the children to gain confidence by performing for an audience. Each year during Book Week, every class votes for their 'RUSSA' Award - The Russell Utterly Super Story Award.
The Book Trust website has lots of reading activities, interviews with authors and stories to read out loud.
Our English Curriculum - Intent
We aspire for each child to develop a deep interest in, and love for learning so they are equipped with the knowledge and skills they will require to be successful, both now, as children, and in the future. We offer an ambitious English curriculum, which is shaped to reflect the unique needs of our pupils. We recognise the importance of children being given opportunities for 'real-life' experiences in the subject, to develop their cultural capital.
Examples include:
talks at school by well-known authors (through Chorleywood Bookshop)

participation in the Chorleywood Young Filmmakers' Competition

producing our school newspaper, the 'Russell Round Up' (half-termly, from Year 3)
The breadth and depth of the curriculum provides stretch and challenge for all abilities and it is sequenced to ensure the progressive development of reading, writing and oracy. We fulfil the needs of the English National Curriculum in depth, whilst planning for and using this to enhance learning experiences in all other areas. We ensure the progressive development of concepts, knowledge and skills across the English curriculum to ensure that all children develop fluency in reading, writing and oracy and a life-long love of literacy.
Reading is at the heart of our curriculum. Staff promote a love for reading and exploit opportunities for children to read widely and deeply across all subject areas. Children have access to high quality, appropriate reading content, including a school library and class book corners. Reading is taught discretely through Guided Reading and Comprehension lessons and all classes visit the school library at least once a week. We set out to ensure good quality and appropriate content are provided for reading experiences; that occasions to present what has been learnt are made and that there are writing opportunities of different genres given in each subject. Giving pupils the opportunities to read around these subjects and write in different genres, enables them to form links and remember more effectively what they are learning.
Children have opportunities to write across different contexts and opportunities for writing in different genres are provided in every subject. Opportunities to write at length have been carefully woven across all subject areas. Children are taught to craft their writing for different audiences and purposes.
Children are taught to speak clearly and precisely in standard English using sophisticated, ambitious and expressive vocabulary. They present their learning in oral and written form and have frequent opportunities to develop the art of public speaking.
Regular opportunities for retrieval practice enables children to deliberately rehearse newly acquired skills and knowledge, transfer these across different contexts and identify gaps in their learning, ultimately strengthening long term memory. In phonics teaching, 'revise' is built into every lesson. When writing in other subjects, previously learned writing skills are included and reinforced through different writing opportunities. Comprehension work builds up in complexity, and Guided Reading in smaller groups allows teaching to take our children forwards, whilst monitoring for any gaps. In Spelling lessons, revision of learning is built into the two-weekly lesson cycle, and when testing, previously taught spellings are included to maximise past learning. We also expect our children to evaluate their own learning, starting in Year 1, so they are made aware of the objective of the lesson, and, importantly, become proactive in establishing what they do and do not know.
We promote positive mindset and resilience so that our children attain their best, are challenged to achieve their best and leave The Russell School ready for their secondary education and beyond. It enables them to want to learn and enjoy creating work that allows them to reach a high standard in all areas of the curriculum, with enough time given for researching, discussing, proofreading and redrafting. Having the confidence to take risks is valued and 'having a go' encouraged at all stages.
Our English Curriculum - Implementation
Knowledge and skills in every area of English are taught creatively, underpinned by well-sequenced planning. Units of work are carefully sequenced to ensure that concepts are taught in a logical order and more cognitively challenging activities are based on previous learning. Lessons are objective-led and planned in response to assessment information from prior learning. Learning is layered, building on the skills expected in each year group so that the areas of Reading (phonics, comprehension and reading for enjoyment), Writing (composition, handwriting and spelling) and Speaking and Listening are planned for, in line with 'national expectations' and in the appropriate way for the audience. Crucially, this planning reflects the high ability and expectations we have for our children.
Talk for Writing is taught to whole class groups. There is a clearly defined progression of a grammatical element in each unit which is taught at the appropriate level outlined in the National Curriculum. Opportunities to read and write at length are incorporated into medium term plans for all subject areas.
Speaking and Listening skills are developed across reading and writing, as well as all other subject areas:
Children are encouraged to communicate their learning through presentations.

Each Talk for Writing unit has built in opportunities to discuss, present and express through drama and role play.

Each class delivers a class assembly which parents are invited to watch.

A Christmas concert, where children have the opportunity to narrate; a Year 6 production given at the end of their last year.

Every child can 'apply' to be a School Council Representative or Eco Squad member by presenting ideas and suitability for the role to their class.

After going on school trips, we encourage our children to report on their visit in different ways.

Outdoor teaching (timetabled in) means that first-hand experience of, say, Science contributes to more meaningful written outcomes.

Authors visit regularly. Children are encouraged to ask questions while being made aware of the different ways presentations can be given and how ideas can be inspired.
Reading is taught through Talk for Writing lessons as well as Guided Reading sessions for Reception to Year 4 and Comprehension lessons for Y5 and Y6.
In Talk for Writing, a reading focus is essential, and continues all through the teaching cycle.

Guided Reading takes place from Reception to Year 4 using a large selection of dedicated guided reading books. Working in different groups to suit their abilities, the children are challenged, using reading skills as set by the National Curriculum, and extended by acquiring new skills.

For Guided Reading, we have a comprehensive range of book-banded material with layouts and content for lower ages and reading levels (Project X reading books for instance, tend to appeal to under-achieving boys).

Guided Reading/Comprehension lessons take place in Year 5 and 6, encouraging the development of skills needed to process and communicate ideas, in turn ensuring effective learning in other areas of the curriculum.

To promote Reading, e

ach classroom has a vibrant and welcoming Reading Corner, where children can access a wide range of different level texts. Reading for meaning and enjoyment is at the forefront of our children's learning.

Our library is a light and airy place, with classes timetabled each week so that every child can borrow books which they may not have access to at home. As well as this, it provides a set of reading books to go into classrooms for topic work.

During wet play, boxes of books are available for children to use.

Home reading is a priority and is encouraged as children move up the school, with a large selection of book-banded texts from Reception to Y3 (and as required for individual needs in KS2), and from a selection of free readers. Many of the Early Years books are phonically based. Parents make a note of books read in Reading Record books, but as soon as they are able to, children are encouraged to complete their own. The books are audited, updated and restocked as part of the Subject Leader's Action Plan.




Every year we acknowledge World Book Day, with activities taking place which have been decided by the School Council following voting for different ideas. The children also vote on their favourite class books (RUSSAs) which are then presented to the whole school.
Writing skills are developed across the curriculum as well as being taught discretely in English.
Handwriting is taught from Nursery through to Y6, with a consistent approach in line with national guidelines. This is reinforced through Handwriting lessons delivered in the most appropriate way for each class, with one-to-one, small group and whole class teaching by Y5.

Using 'Talk for Writing', a teaching framework developed by Pie Corbett, 'which enables children to imitate the language they need for a particular topic orally, before reading and analysing it, and then writing their own version', we are able to have a consistent approach across the school for English lessons.

Extended writing opportunities are built into all medium term plans across Foundation subjects.

As a part of our morning routine, children from Year 1 upwards come into school and complete a writing task inspired by a picture or photograph as they are registered.

Written work is displayed in each classroom, and writing submitted by the children from whole school writing tasks is displayed in corridor areas.

Handwriting is taught in the most appropriate way to best meet the needs of each year group (whole class, small group, individual).
Spelling is taught using:
'Letters and Sounds' for reading and spelling. Early Years and KS1 follow a phonetic approach, which is usually taught in ability groups, with some whole class teaching by Year 2. Backed up with Phonics Play, LCP lesson plans and Smart Kids resources, we aim to have a very high pass rate for the Year 1 Phonics Screening Test.

Mixed-ability teaching in phonics gives all children the opportunity to experience higher level work.

Children's achievements are celebrated through our award systems: Learning Ladder, merit awards, praise.

Children's work is displayed where possible.

Babcock's 'No-Nonsense Spelling' scheme is used as a base for teaching.
Children of all abilities develop their knowledge, skills and abilities to apply what they know and can do with increasing fluency and independence. The curriculum:
Removes gaps and barriers to learning (limited vocabulary, poor background knowledge, reading fluency, difficulty in expressing ideas).

Provides extra scaffolding.

Sequences learning to provide opportunities to revisit and embed skills and knowledge.

Is personalised to meet individual needs.

Focusses on subject specific oracy skills (especially for EAL).

Is sufficiently ambitious, high quality, and well-rounded so that all pupils make good progress.
Our English Curriculum - Impact
The impact of our curriculum is the measure of how well our intent has been realised. It is demonstrated through the success of our learners and their confidence to demonstrate the knowledge they have retained over time and the strong outcomes for all groups or pupils across the school.
Children's achievements in English are assessed in a variety of ways. Marking and feedback provides ongoing assessment information and children are assessed formally at the end of each term, including at the end of each phase. Herts for Learning (HFL) Writing grids help us to establish the stage our children have reached. Using HFL Guided Reading Toolkits in Early Years and KS1, tracking our children each term or half term, and subsequently using the KS2 Toolkit for Years 3 and 4, ensures our assessment is consistent and next steps can be planned. Through internal and external moderation we have a consistent measure of standards through school, and also termly testing using NFER reading tasks helps to inform our judgements. Examples of work and evidence as well as teachers' assessments are taken into consideration when formally assessing children's writing and reading.
We continually evaluate the impact of our English curriculum by assessing evidence that defines a high quality education, through:
Judgements which are based upon a triangulation of different monitoring and evaluation activities within school, such as work scrutiny, Pupil Voice discussions, outcomes of assessments and quality of teaching and learning.

The learning attitudes, engagement and motivation shown by the children.

Ongoing feedback and assessment, which addresses misconceptions and gaps in learning and informs planning, to ensure that the curriculum effectively meets the needs of all pupils.

A range of assessment and analysis strategies: timely testing, moderation of work, pupil interviews, use of assessment grids and data tracking systems, to ensure children know what they are meant to know at specific points during their education.

Evidence from monitoring which shows that children are active in their learning, are able to construct their own knowledge and are able to think flexibly and creatively.

High levels of engagement in home learning.